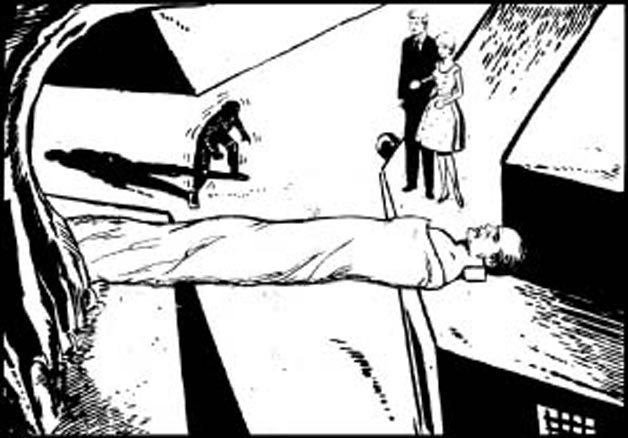 Who is the bridegroom identifying with?
a) The man below.
b) His dead, prolonged father.

Which one of these unknowing observers will the cat favor?
a) The one with the wavy hair.
b) No one in particular.

How did the statue lose her arms?
a) She did not have enough birdseed in her hands.
b) The mad sailor threw them in the sea.

Why does this man seem so peaceful and carefree?
a) He likes a morning walk and really doesn´t mind the noise from the mechanized street-cleaning patrol.
b) He is trying very hard not to be detected.

What exactly is going on in this cave?
a) The smuggler to the left is proudly showing his newly arrived companion an artwork he just made on the wall to pass the time.
b) He is showing something else entirely, but the smuggler to the right is delirious and not paying attention.

How come the man to the left shows a condescending attitude?
a) The uniform gives him a sense of entitlement.
b) Under the given circumstances he is unable to hide his feeling of being the superior lifeform.

How did the woman end up sleeping like this?
a) It was a perfectly normal situation. Then her bed-partner, while squirming in sleep, happened to push the woman through the wall.
b) No, she is a regular outside sleeper by choice. She recently dreamt of skating and falling through the ice. Trying to get up from the hole, she accidentally kicked through the wall.
How does an image turn into words? Artists are generally wary against applying discursive formulas and enforcing closed systems of meaning to their works. Bluntly put: images deserve pre-verbal attention, otherwise they´re treated like mere signs. We likely get to know images best intuitively, since image-cognition must have predated the invention of written language.One could even say that there´s a bit of violence involved in bestowing a single meaning to an image, sort of killing the cat by opening the chamber just to check if it´s dead or alive, to paraphrase Schrödinger´s thought experiment on how quantum mechanics apply (or not) to everyday objects. So rather than it being a question of respect toward the artists and the integretiy of their works, there is also a structural reason for the wariness against efforts of decoding. The image itself has no linguistic dimension, at least not in a sense of a scriptural understanding. Words emerge rather like a pattern or a trace through a landscape of possibilities than in the polarizing or reductive manner of the signifying, linear process of how we read messages. We read a sign, but orient ourselves in an image. An exception to the rule might be the singular pictures in a comic strip, which are arranged in a linear order in which each image arguably has a limited and fixed part to play in a story. The following images are collages of comics, put together without a meaning or illustration of an idea in mind. Afterwards they have been subjected to the game of finding a twofold story in each image. Twofold, because two simultaneous stories or interpretations can work mind-liberating like a pun, a double entendre or a metaphor, when the ambivalence is maintained. It´s also interesting to observe how one´s own mind can be tempted to find the interpretation, either by choosing from the suggested alternatives, or by coming up with a third story.
(These thoughts were inspired by art historian and epistemologist Sven Sandström´s book From Intuition to Insight, from 1966.)